1. Ambarella A7LA50 Chipset.
2. Two Removable 1850mAh long life battery.
3. Small size with long continuous recording time.
4. 1296P True HD Video.
5. IP65 water proof, and 1 meter drop resistant.
6. Infrared 10 meter night vision with face detect
7. Pre and Post event Recording
8. Laser Pointer. Pin-point objects for the best positioning.
9. Low temperature protection.
Inner Packing: White gift box packing
Unit box size: 208mm*134mm*88mm
Outer Packing: 425*370*285, 16 PCS/CTNS
Shipping cost: We are committed to keeping shipping costs as low as possible.
The shipping charges are calculated based on the ordered products.
Shipping method: Express for sample order, air transportation for mini order, sea transportation for bulk order.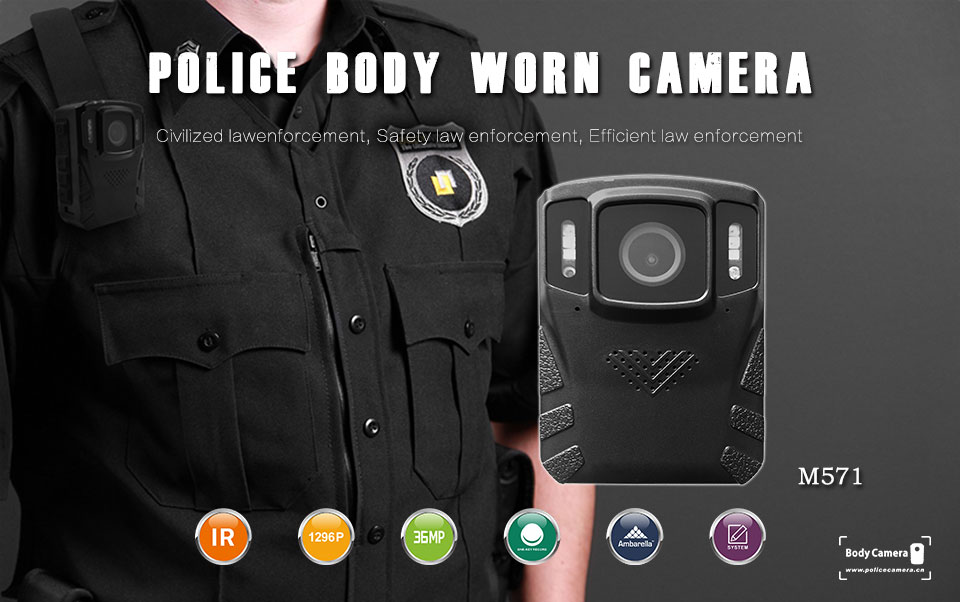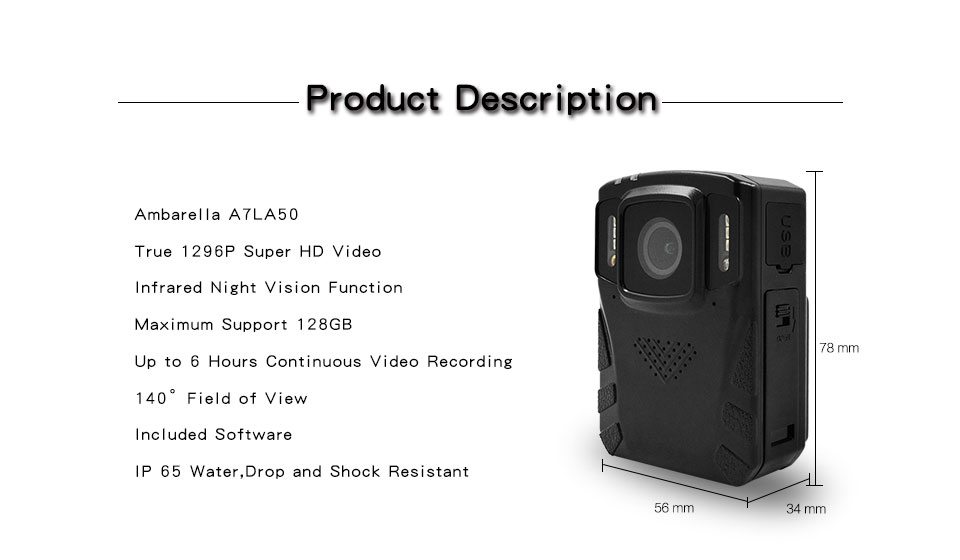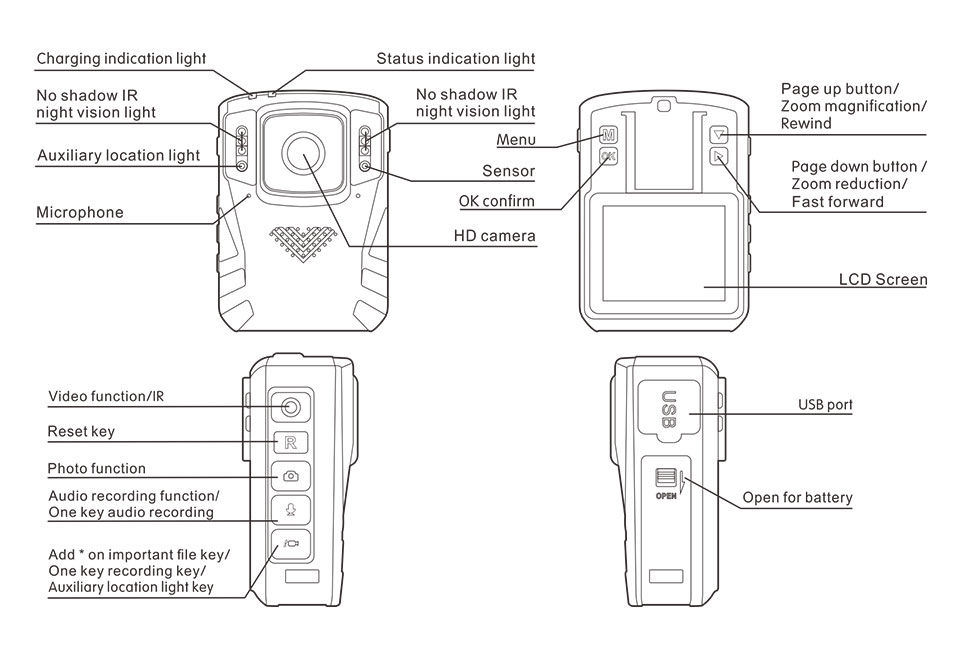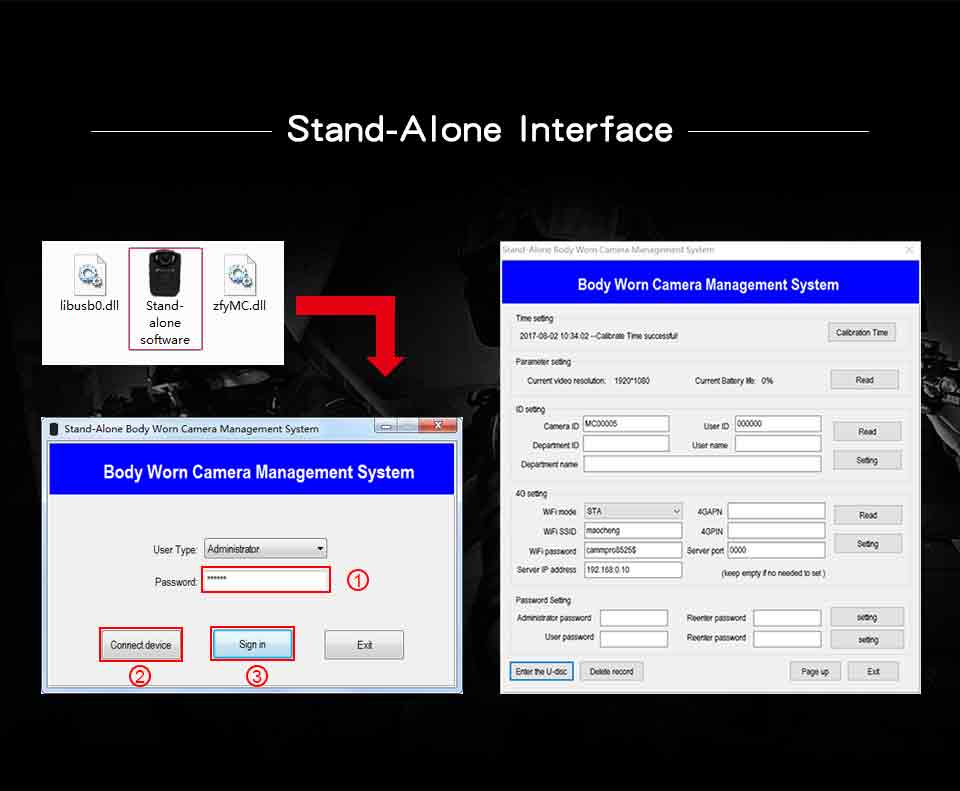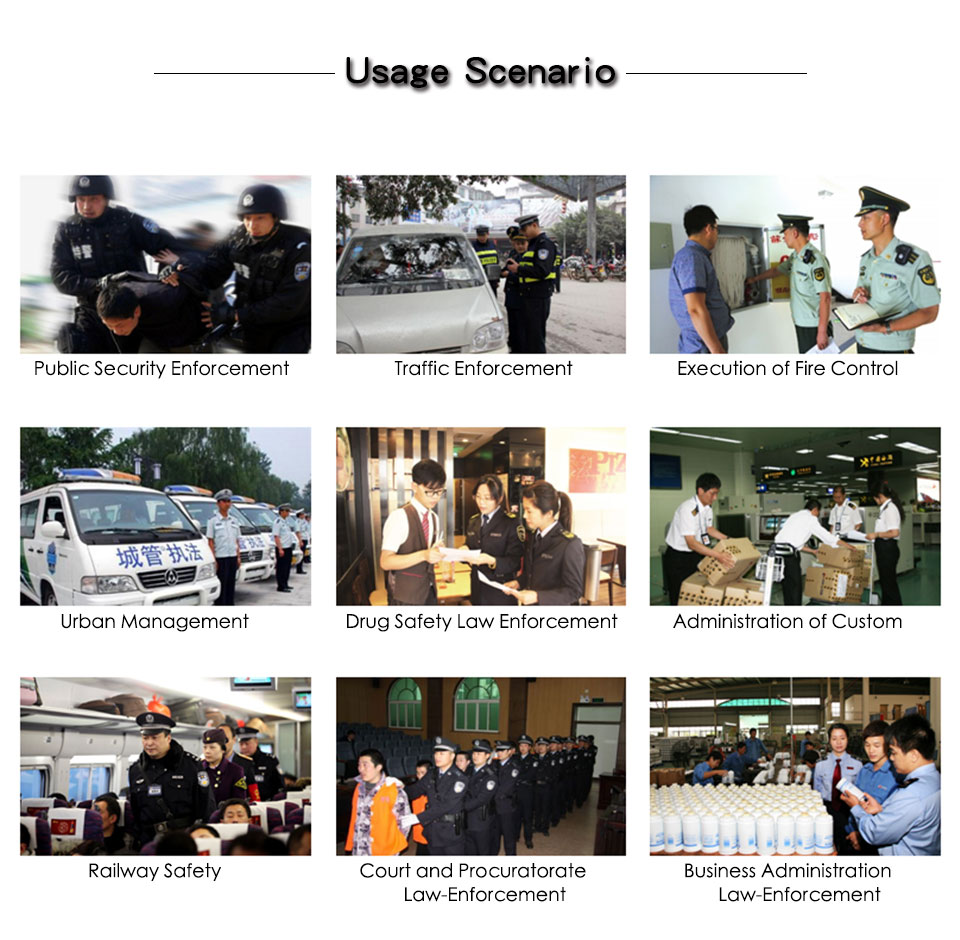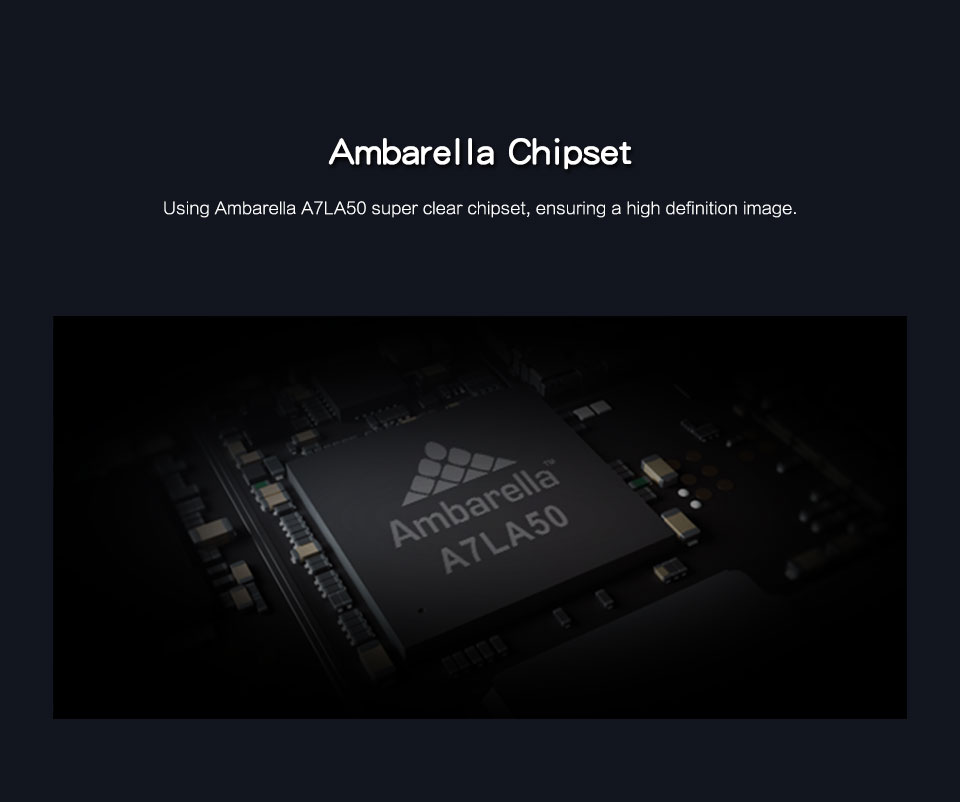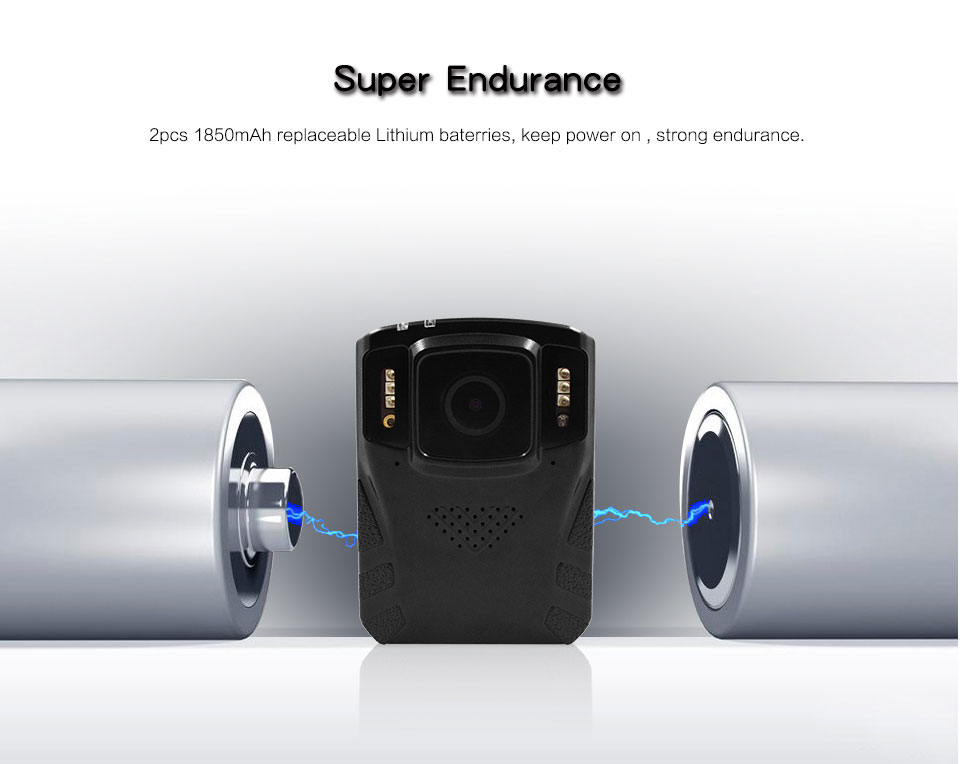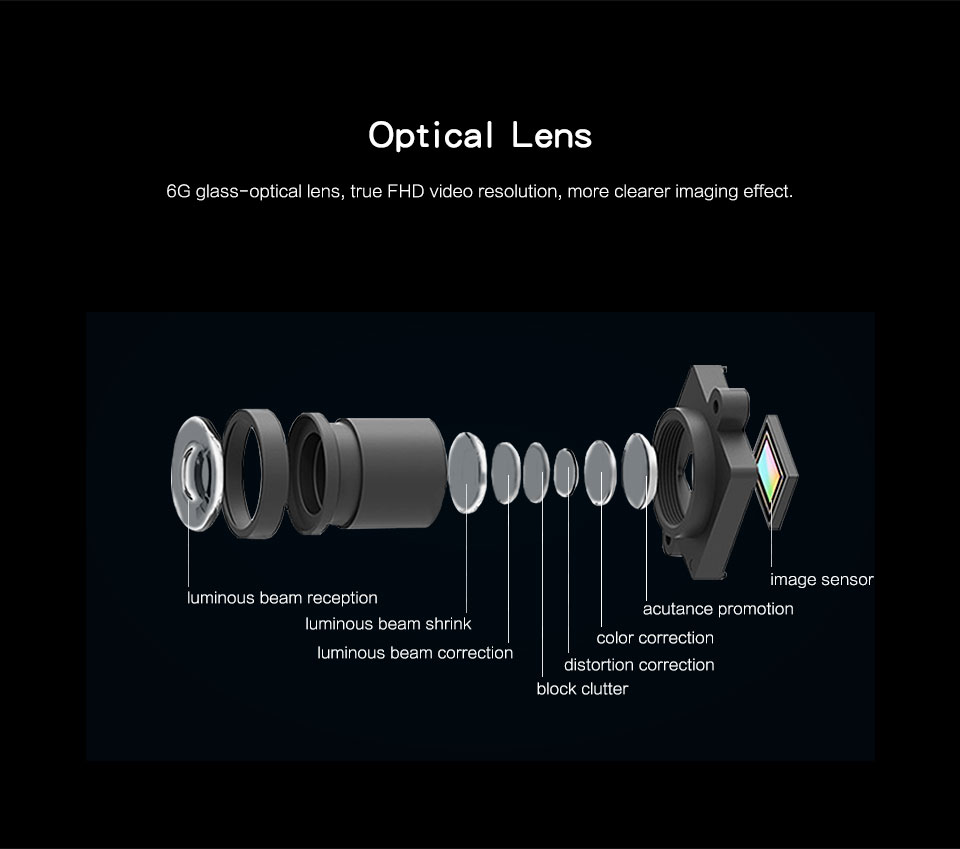 RECORDING




Sensor
5MP CMOS ov4689
Language
Chinese/English/Russian/Polish (OEM)
Chipset
Ambarella A7LA50
Screen Protection
Off /30s/1 min/ 3 min/ 5 min
Video Format
H.264AVI/MPEG4
Brightness
High / Low
Audio Format
AAC2./MP3
Auto Power Off
Off /30s/1 min/ 3 min/ 5 min
Photo Format
JPEG
LED Light
On/Off
Audio
High quality built-in microphone
Key Tone
On/Off
Fast Forward
2X,4X,8X,16X,32X,64X,128X
Volume
0-12
Rew
2X,4X,8X,16X,32X,64X,128X
File Type
None/ Police Control/ Criminal Inspection/ Public Security
Pixels
36 Megapixel
ID Setting
Device SN/Person SN
Snap Shot
Capture photo during video recording
Default Setting
Restore factory setting
Recording Time
Continues recording time: 6 hours(battery full charged,IR closed,)
Firmware
User can check camera's firmware version
CAMERA
LCD Screen
2 inch TFT-LED high-resolution color display
Storage Capacity
16G/32G/64G/128G
Video Output
HDMI 1.3 port
Storage Level
Visual indicator and audible alarm
Video Transfer
USB 2.0
Water Mark
User ID,Time and Date Stamp
Audio Playback
Support
Record LED
Red
Recording Angle
Wide angle 140 degrees
One Key Recording
Support
Night Vision
Yes-six built-in high-intensity infrared illuminators,up to 10 meters with visible face detection




Waterproof
Yes,IP65
MENU SETTING
Clip
High quality metal clip with 360 degrees rotation
Videos Resolution
2304×1296/ 1920×1080/ 1440×10801280×720/ 848×480/ 720×480
BATTERY
Type
2 * Removable 1850mAh lithium battery
Charging
180Minutes
Top Pixel
36M(7360*4912)(5M/8M/10M/12M/16M/21M/36M)
Battery Level
Visual indicator
Burst Shot
Off /2/3/5/10/15/20 burst shot picture taking
OTHERS
Self Timer
Off /5/10 Seconds
Police ID/Date Stamp
Include 7 digit device ID and 6 digit police ID
Timing Photography
Off /5/10 Seconds
Password Protect
To set an administrator password to allow deletion via software,user can only view the videos but cannot delete it
Video Quality
Best/Fine/Normal
Pre-record Function
On/Off
Dimension
78mm*56mm*34mm
Post-record Function
On/Off
Weight
132g
Video Section
5min/10min/15min/30min/45min
Working Temperature
-20~70 degrees celsius
Slideshow
On/Off
Red IR Switch
Auto/manua
Storage Temperature
-40~80 degrees celsius
Record Warning
On/Off
Standard Accessories
Charger | USB data | Docking station | Metal clip | Driver CD | User manual




Optional Accessories
16G/32G/64G/128G | Leather Should Clip | Vest Belt | Car Mount | Car Charger | Sheath
1. Ambarella A7LA50 Chipset.
2. 2 Removable 1850mAh long life batteries.
3. 1296P True HD Video.
4. 140° field of view, Capture all situations.
5. Infrared 10 meter night vision with face detect.
6. Pre and Post event Recording.
7. Laser Pointer. pin-point objects for the best positioning.