The Docking Station use high-performance low-power motherboard, processor and hard drive with high, stable performance. It can work stably for a long time;It can support 20 body cameras upload data at the same time. The Docking Station with web management system, Users can easily Playback files and download files from other PC.
Compact design with integrated hardware
● Embedded operating system
● Inside with a large-capacity hard disk storage space to storage data
● With Web management system
● Support microsoft Azure cloud for storage video files.
1) Video files can be automatically uploaded: After inserting body camera,All files which saved in camera TIF card will be automatically uploaded to the docking station, And uploaded files are automatically associated with the corresponding information officers.
2) Automatic time synchronization: After body camera insert the docking station, Time of the body camera will be automatically synchronize time with the docking station.
3) Auto clear camera TF card: After all files of body camera are uploaded to the docking station,Docking system will clear have uploaded files.
4) Fast charging: After body camera insert the docking station,The docking station will charging to body camera.
5) Search Files: Authorized users can on a docking station within the scope of authorization files based on the type of media (video, audio, photos, log, HD, SD), to create a range of time, user ID and other attributes of the file query quickly locate.
6) Playback files: Authorized users can playback files by web.
7) Protect files: User can protect files by web,So protected files can not be removed by unauthorized user.
8) Lock files: User can lock files by web, So locked files can not be playbacked、downloaded、removed by unauthorized user.
9) Transfer files protected: During upload files, USB disconnected or other causes of data docking incomplete, After the camera reinsert the docking station, The files which was interrupted file upload can continue to upload.
11) Download files: You can download files from the docking station by web system, And Save the downloaded file to any storage media.
12) Automatic management docking station disk space: The docking station can automatic delete the expire files for making room for the next upload operation.
13) Cloud storage: The docking station is embeded the microsoft Azure cloud services, You can upload the importance file to the microsoft Azure cloud. However, users need to open Microsoft's cloud services.
14) Remote manage docking station: You can manage the docking station by web system,For example:Setting options of the docking station,Restart the docking .
Inner Packing: Wooden case.
Outer Packing: 75*69*165CM, 78KG 1 PCS/Case.
Shipping cost: We are committed to keeping shipping costs as low as possible. The shipping charges are calculated based on the ordered products.
Shipping method: Express for sample order, air transportation for mini order, sea transportation for bulk order.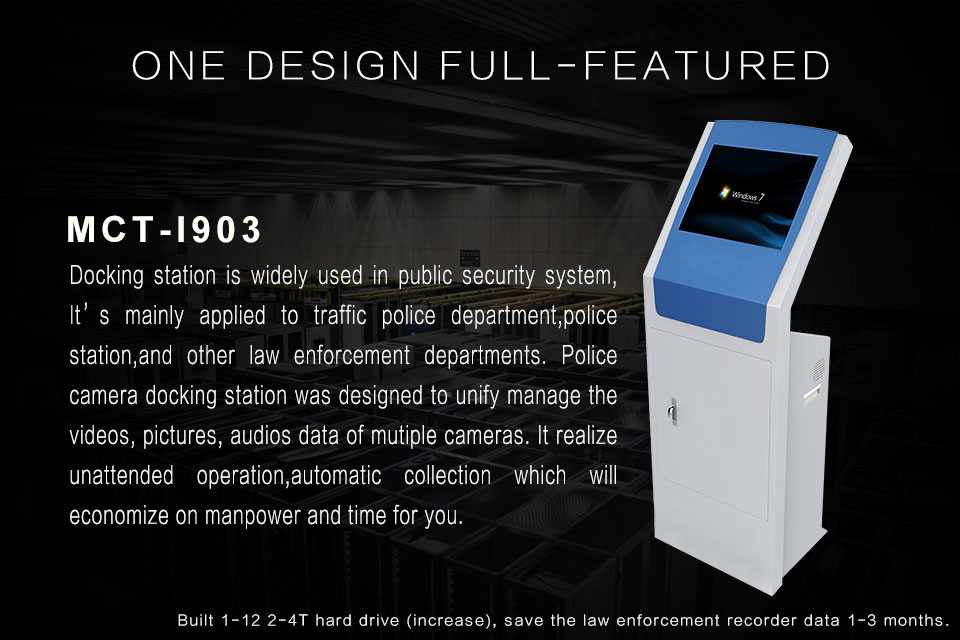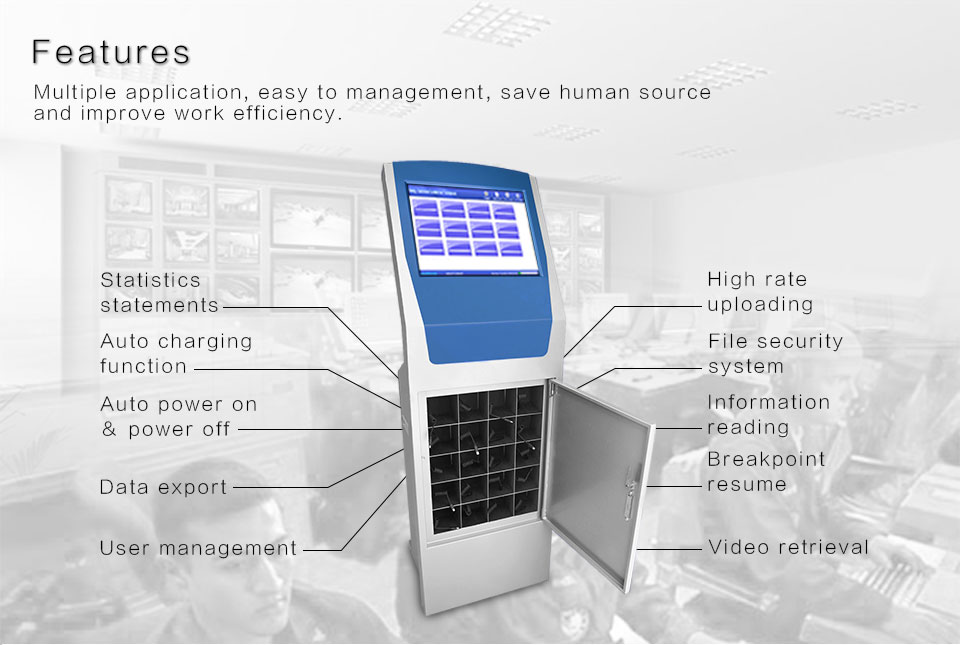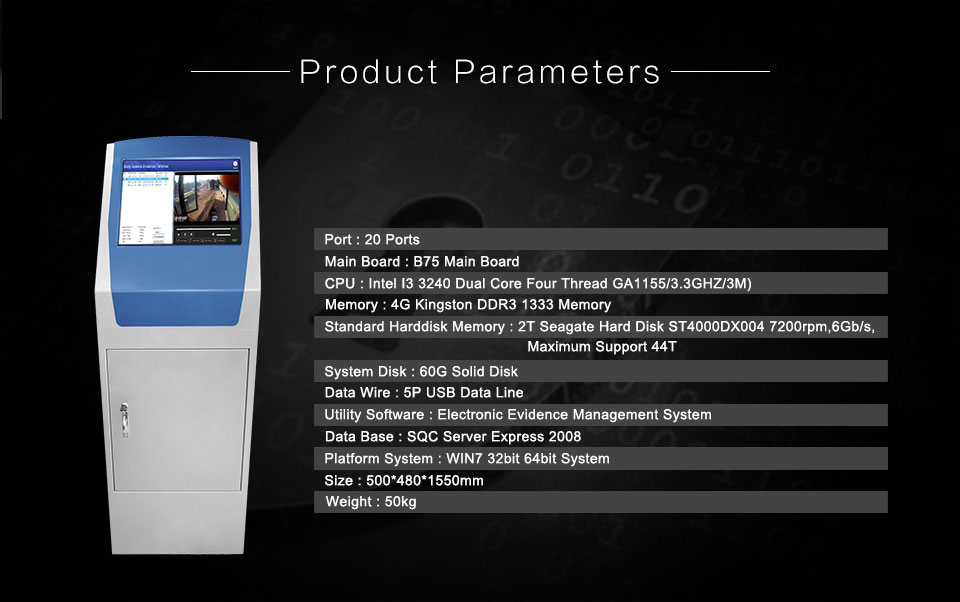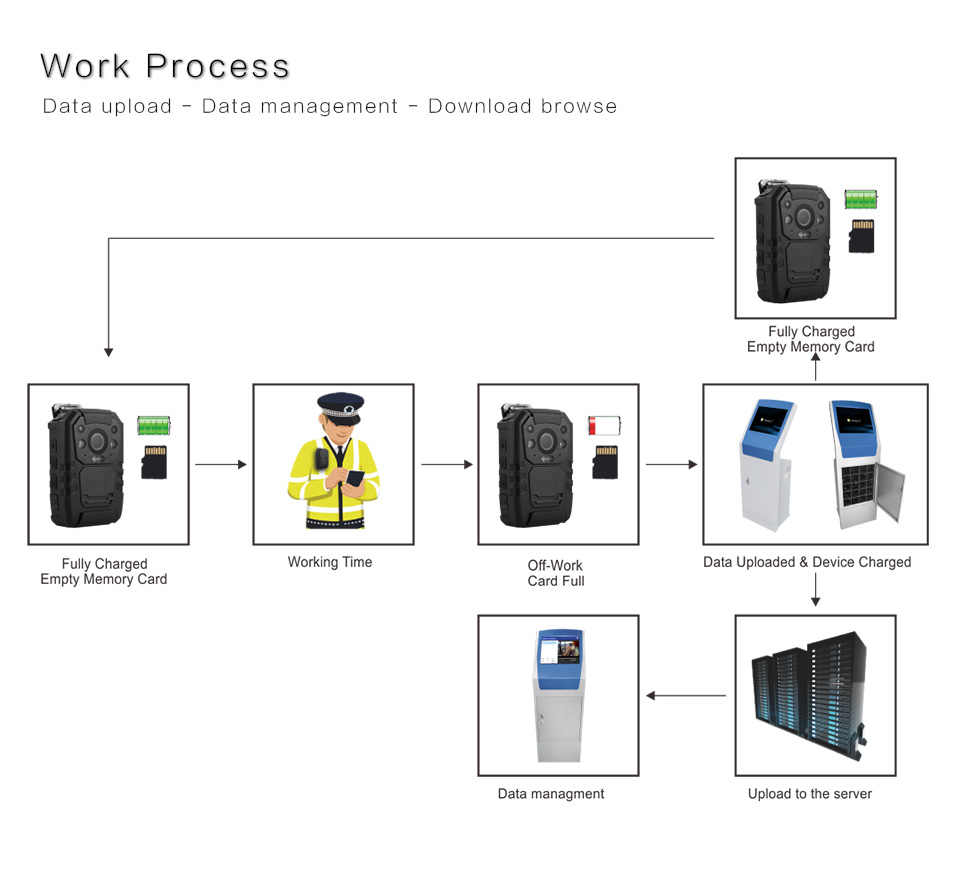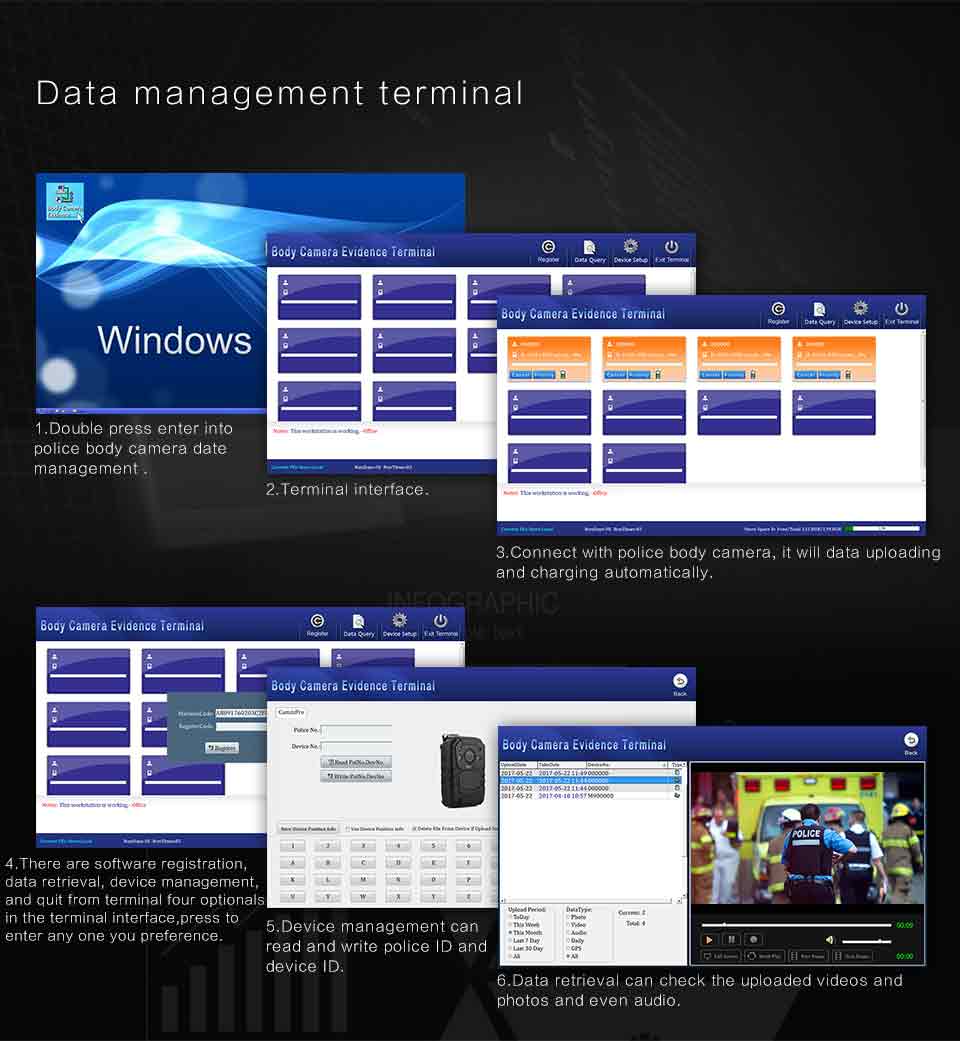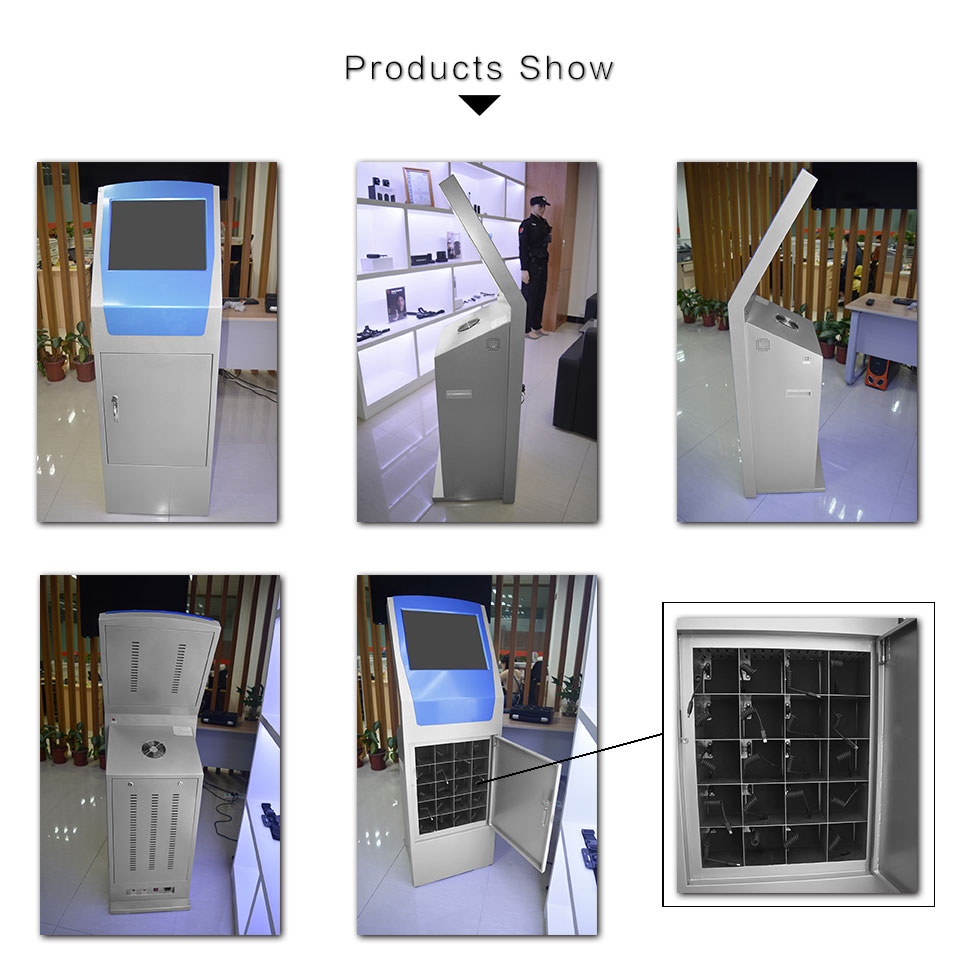 20 Ports Docking Station Specification
Hardware configuration
Port
20 ports
Main board
B75 main board
CPU
Intel I3 3240 Dual core four thread (LGA1155/3.3GHZ/3M)
Memory
4G Kingston DDR3 1333 Memory
Hard disk
4T Seagate hard disk ST4000DX004 7200rpm, 6Gb/s,
Source
500 W
System Disk
60G Solid disk
Network Card
Kilomega net card
Disk Array
Hard disk can extend to 4T*6 (with array)
Display
19 inch LCD touch screen, Resolution 1920*1080
Horn
Loudspeaker
Software
System
WIN 7 32/64 bit system
Utility Software
Electronic evidence management system
Database
SQC server express 2008
Wire Material
Data Wire
5P USB data line
USB Interface
USB 3.0 HUB,transmission rate≥400M/min
Network Wire
RJ45 network wire
Power Wire
1.8M standard power line
Power
Input Power
220V AC
Size
Size
50*48*155CM
Weight
50kg
Package
Wooden case, 75*69*165CM, 78KG
Accessory
User Manual
User handbook CD
Software Encryption
Software encryption dog HASP PRO(sub lock)
Fuse
220V 10A fuse
New Functions
System recovery
Using 60G solid hard disk to do system disk, to make system recovery function, when the operating system or software abnormal, it can be restored to the factory state.
Auto switch machine
To protect the data station, the machine can shut down and turn on automatically at a regular time everyday or every week by your setting.
Screen protect
The screen saver function, the screen will be off automatically if the user don't operate the machine more than 10mins; touch screen, the machine will wake up.