Overview
MCT-M7 is a widely used one-stop solution docking station to manage mutiple police cameras
It's a high cost effective docking station that compatible with Cammpro Police Camera I826, I827, and M852.
● Auto Fast Charging For 8 Police Body Cameras Together
● Auto Download Audios, Videos, Logs From Body Camera
● All-metal Housing, Tough and Durable for Special Purposes
● Compatible Windows 7,8,10 32Bits or 64Bits.
Bullet Points of MCT-M7 Docking Station
▶Visual Download Status
Docking Station displays data download status, number of files downloaded, and estimated download time from
each connected body worn camera.
▶Camera Data Purge
Docking Station automatically purges all recorded data from connected BWC after all data has been downloaded
from the device.
▶Resume Download
If download from BWC to docking station is interrupted, the docking station will resume download from where it
last left off when the camera is reconnected.▶Users & Groups
Each user is assigned custom permissions to access, view, download, reports, and delete uploaded data.
▶Case Information
Authorized personnel may add important case details, attach additional documents and other files pertaining to
the case with recorded data.
▶Protected Data
Important data may be protected from automatic or manual deletion.
▶Advanced Search
Easily locate desired recorded data using a single or multitude search parameters.
▶Complete Audit Trail
Track each action performed by officers and users either at docking station or through Web Portal.
▶Retention
Docking Station automatically purges general unprotected data from its storage at specified retention time periods.
▶Time Synchronization
Docking Station automatically updates Body Worn Camera's time when devices is connected.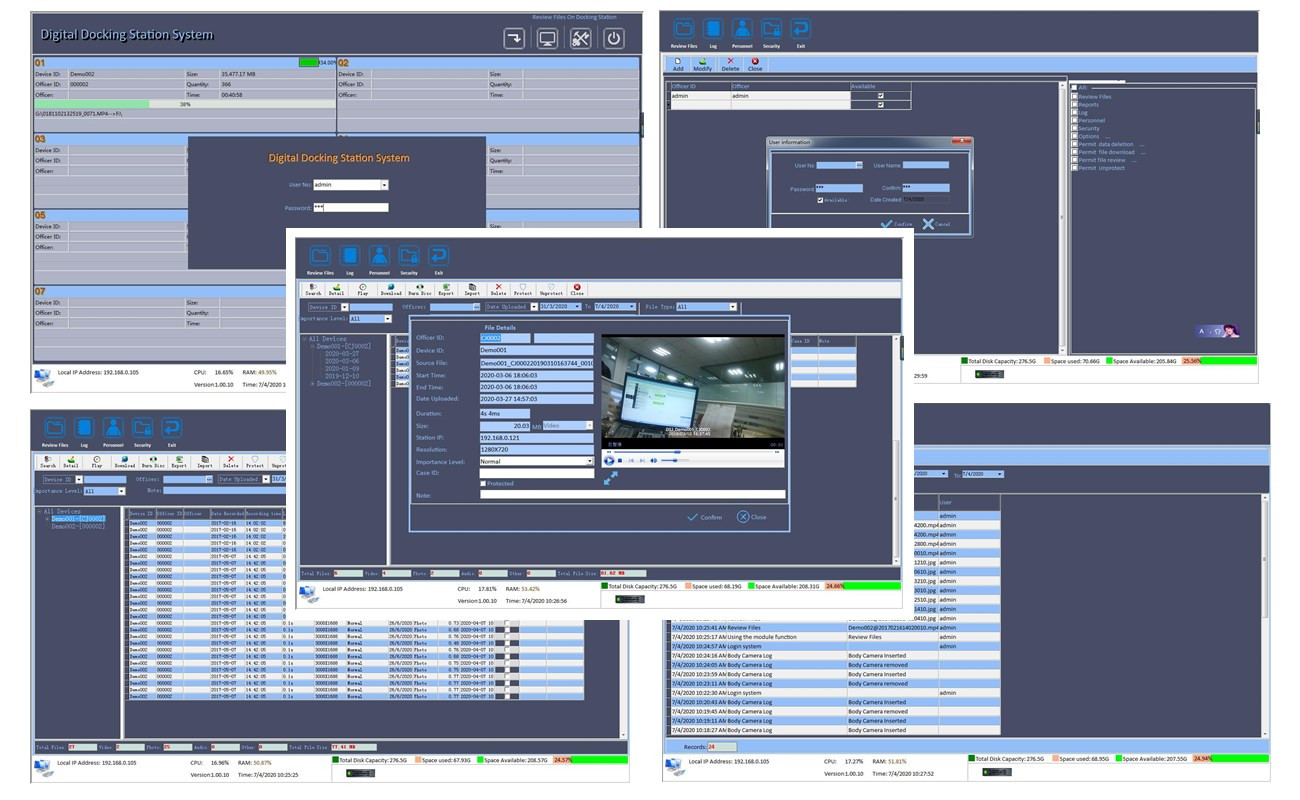 8 Ports Docking Station with Management Software
Item No.
MCT-M7
Packing size
415*295*160
G.W
4.5kg
Hardware
Board card
8port USB3.0 board card
USB line
8 pcs 5P USB USB line
Network line
RJ45 network line
Wire crod
1.8M standard power cord, data line
CD
1 pcs
Software encryption
Soft Dog HASP PRO(sublock)
SOFTWARE
Application software
Cammpro Electronic evidence management system
System operation log
System will generate a log for all operations.
Software encryption
Soft Dog
Data tagging
Important data can be annotated for easy query.
Time correction
Automatic time correction
Data locking
Important data can be locked to avoid accidental deletion.
Systematic framework
B/S or C/S framework
Positions corresponding
The body camera positions on docking station are exactly corresponding with the software interfaces.
Automatic index uploading
Automatic upload the generated index file to server database.
Input operation
Touch virtual keyboard,and also has interface to connect with a physical keyboard.
Multiple storage mode
Storage mode can be distributed, centralized, or mixed.




Automatic data clearing
Automatic clear the camera's memory after data were updated.
Storage space
Intelligent disk search function (System will automatically find storage space, except disk C and D).
Super-big file uploading
The system supports to transfer, download and play large file which over 2G.
Processing of Insufficient storage
When the data is full in current memory disk, it will automatic enter into another one.
Information-reading
Automatically read the time, date, device ID, police ID, remaining memory and remaining battery capacity information in the body camera.
Storage space display
The remaining space of the docking station can be viewed in real time on the online management status bar.
Department management
Administrator has the authority to add, modify and delete the department information, but ordinary users have no.
File safety
Only administrator with right password has the authority to delete file, others have no permission.
Police management
Administrator has the authority to add, modify and delete the police information, but ordinary users have no.
Data export
Only administrator with right password has the authority to export the data in management device, others have no permission.
Device management
Administrator has the authority to add, modify and delete the device information, but ordinary users have no.
Breakpoint resume
Has breakpoint resume upload function to prevent data loss